Pasadena
A charming historic city with a small-town feel.
Welcome to PASADENA
Located 10 miles North of Downtown LA in Southern California's scenic San Gabriel Valley, Pasadena is a historic city full of charm. While it is miles from the ocean, Pasadena has the feel of a resort town, with plenty of boutiques, art galleries, gardens, and a blossoming food scene to explore in the city's eclectic old town district. While Pasadena is famous for its Rose Bowl stadium, it has far more to offer to residents and visitors alike who crave a small-town feel alongside the comforts of a vibrant city.
Incorporated in 1886 as one of the first cities in Los Angeles County, Pasadena is rich in history—and it shows. Between its development boom in the 1880s and the early 1940s, Pasadena increased exponentially in popularity, mostly thanks to its addition as a stop on the Santa Fe Railway. Once accessible, it became a popular destination for wealthy Easterners looking to escape the winter cold, which led to new residential and business development, including grand estates and great hotels.
Many of the classic American Craftsman homes built in the late 19th and early 20th centuries still stand today, including Bungalow Heaven, a neighborhood of 800 small Craftsman homes built in the early 1900s. Pasadena's estate areas are known for their large lots, curb appeal, stunning architecture, and range in style from Craftsman to Spanish villa to colonial.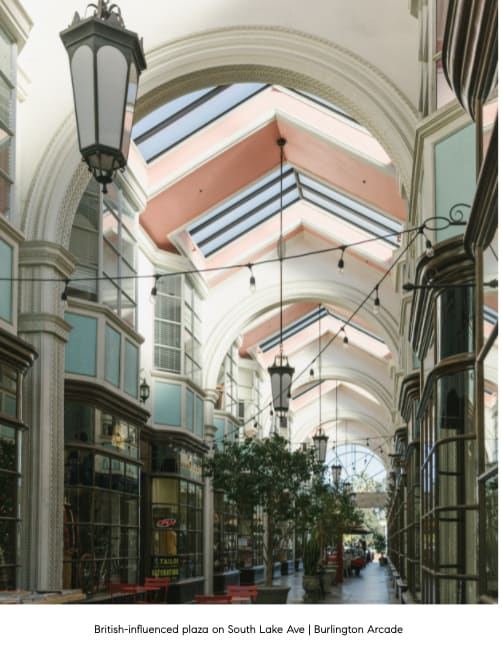 What to Love
Old-town feel
Modern city amenities
Refined real estate expressive of Pasadena's past
Growing cultural scene
People & Lifestyle
With many historic homes, large properties, and upmarket real estate, Pasadena attracts affluent residents who crave a small-town feel while also staying close to city amenities. It appeals to young families who need more space than other areas of LA can offer, as well as to more established residents that enjoy a more relaxed and suburban lifestyle.
Dining, Entertainment & Shopping
Things to Do
Schools